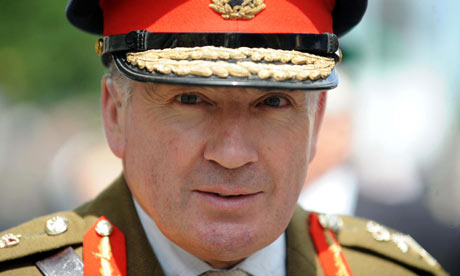 [Above] A government spokesman
A Whitehall memo including advance details of public sector cuts has been leaked exclusively to Blood Red Sounds. It includes a raft of cost-cutting reforms to be included in the autumn spending review. Some of them are very sensitive, but I'm at liberty to share a few of the less worrying ones with you.
A radical approach to taxation.
VAT will be increased to £95% on all purchases, while children's clothing and baby food will be subject to an additional levy of 50% to discourage feckless reproduction. The top rate of income tax will be abolished on the grounds it's "practically unworkable".
A "two strikes and you're out" policy on crime.
The Conservative manifesto recommended "three strikes", but one of the strikes is to be removed for being unnecessarily bureaucratic.
Taking waste out of the education system.
"Mickey Mouse" qualifications will become a thing of the past, as the government removes everything from the national curriculum except maths, cricket and military history.
"Health & Safety nonsense etc." to be abolished.
In what will no doubt be seen as a populist move, the government plans to boost enterprise by revoking any previous legislation that promotes safe working conditions, trading standards, equal opportunities or basic common decency.
"Pest control revolution".
Huge savings to both agriculture and social housing are expected from a move to put pest control "in the hands of communities". However, Liberal Democrat backbenchers will be pleased to hear that participation in money-saving blood sports will be "actively encouraged" rather than "compulsory".
This is pretty exciting stuff, I think you'll agree. I'll post more as soon as I've finished filling out this visa application.